Residential Structures:
Buildings that offer temporary-to-permanent living quarters are becoming more popular with the tremendous residential growth in this area. We have erected buildings that serve as combination living quarters - with a garage, shop, business, offices, etc., as well as some that are living quarters only.
Also becoming more popular is a building designed to house a camper or motor home to live in while the house is being constructed. The floor can be poured with plumbing stubs and a dump station for the camper, if desired.
The appearance, service, and maintenance of these buildings are unsurpassed and the insulating qualities are unequalled in most homes!
As with all our buildings, there are no pre-set patterns or floor plans to limited your options - we figure and design each one to fit your individual needs.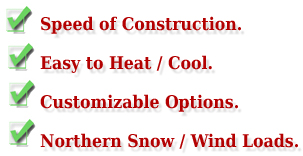 Please click on the thumbnails below to view:
---



























©2004-2016 Myrick Construction, Incorporated
Custom metal and steel buildings in

NW Arkansas and the surrounding area.
All Rights Reserved





Barndominiums, metal buildings living quarters nw arkansas, metal living quarters construction, Residential metal buildings, new homes, construction in northwest NW Arkansas, SE Oklahoma, SW Missouri. Oklahoma metal buildings.