The following article is a reprint from the national Rural Builder magazine, December 2005:
Full Story
---
December 2005
Horse Barn Builder: Equine explosion
By Mark Ward, Sr.
When you've got eight Wal-Marts within a 30-mile radius, most of them built in the last five years, "then you know your area is growing very fast!" exclaims Bill Myrick, president of Myrick Construction Inc. in Pea Ridge, Arkansas.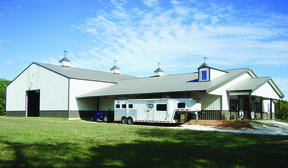 Anchored by the twin cities of Fayetteville and Springdale, the economic boom of northwest Arkansas prompted Myrick to set up shop with his own AMKO Buildings in 2001. Since then he's been building steel-truss-and-wood-frame horse barns "from the economical to the eloquent," plus other structures from suburban garages to commercial warehouses.

Myrick's journey into the horse barn business started 40 years ago when he began as a feed and fertilizer salesman in southern Iowa. Soon he leveraged his customer base and entered the agricultural construction business, becoming an Iowa representative for Morton and later Wick Buildings. After the Iowa economy slowed during the recession of the early 1980s, Myrick and his wife Eva decided to pull up stakes in 1986 and take a friend's advice to head for northwest Arkansas.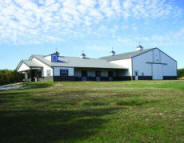 Predictions of an economic explosion proved accurate. Then, as development began to transform the region, Myrick found his market moving away from agricultural construction and into commercial and residential opportunities. "I was the division manager for an existing building company," he recalls, "but they were focused on poultry facilities and I was the only one of their dealers who was doing barns and buildings." Thus in 2001 Myrick founded his own AMKO Buildings brand, a name taken from the initials of the four states in his sales territory: Arkansas, Missouri, Kansas, and Oklahoma.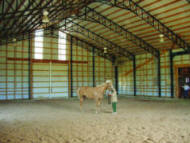 Back then, Myrick built one or two equestrian facilities per year. Now he builds about a dozen, from small two-stall backyard barns to large complexes of up to 20 stalls with indoor riding arena and offices. Along the way, his company, which uses steel roofing and siding panels from Jenisys Engineered Products, has become a dealer for Plyco (barn doors, windows, and stall components) and Ritchie Industries (stall watering systems) in order to offer AMKO customers a complete equestrian package.

"It's surprising to me how many horses we have in just our two-county area of northwest Arkansas," Myrick says. "The way our area has developed, most of our horse barn customers are people who have jobs in marketing or administration. They often live in gated communities that have horse trails and boarding. When they're ready to move up to a barn of their own, that's where I can help." Myrick figures about half of his equestrian contracts are obtained through word of mouth and the remainder through local newspaper and yellow pages advertising, plus his own company Web site at www.amkobldgs.com.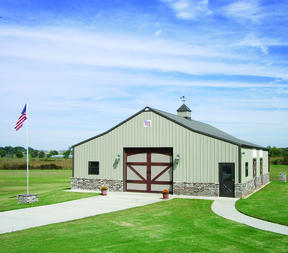 Today Myrick estimates that 75 percent of AMKO's work is in commercial and residential projects and the other 25 percent in horse barns. Or put another way, equestrian facilities increase his bottom line by one-third.

"There are a lot of red-iron builders in our area doing commercial work," he says, "and at age 67, I don't want to get into a head-to-head, cutthroat competition. Horse barns are a good market for me because it's less competitive, and the clientele is loyal and more concerned about craftsmanship than price. And as a farm boy myself, I enjoy building horse barns!"

---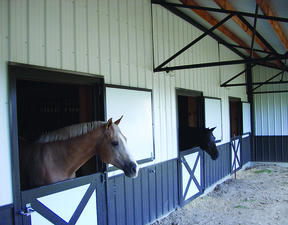 AMKO Buildings is aided in its quest for horse barn contracts by offering a product that stands out from competitors.

Its innovative steel-truss-and-wood-frame system allows for greater clear-span ceiling heights and increased endwall door versatility. "We engineer and manufacture our own steel trusses," Myrick says, "and our designs are engineered for bracing throughout the building. Also, because our trusses are designed to be 12 feet on-center — and most horse stalls are 12 feet wide — our product lends itself real well to equestrian facilities."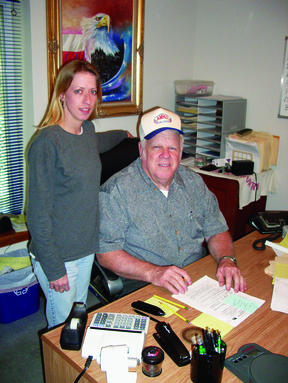 In addition, with three experienced crews and about a dozen employees, Myrick believes his steel-truss-and-wood-frame building system is fast and economical. As an example, he cites AMKO's recent construction of the Mader barn and indoor arena. Though the owners wanted a building with a T-shaped design and needed sophisticated ventilation and environmental controls to house their champion show horses, the facility was built for only $160,000.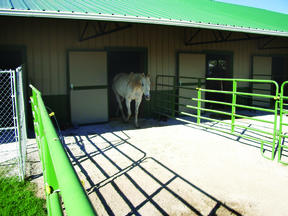 To create a front view of the barn with the desired residential look, AMKO designed a covered front porch accented by carriage wall lighting, gridded windows with shutters, and sliding front doors with gridded windows. The barn exterior also reflected a residential look by breaking up the metal wall siding with 36-inch color-matched wainscoting. The living quarters themselves achieved a residential feel with the addition of attractive roof dormers for natural lighting.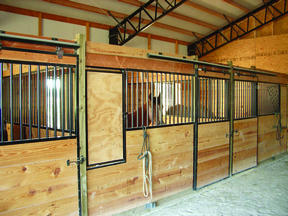 The 40-foot-wide barn itself was built with a number of innovative features. Stall fronts were designed with center-entry sliding doors, rather than having the doors to one side as is common, so that each stall's feeder and waterer could be located in opposite front wall corners. So the owners could quickly create a two-stall foaling area when needed, Myrick and his team designed stall divider walls with sliding-bolt vertical latches at the top so that any wall can easily be swung out and lifted. The barn connects lengthwise to the center of the 72-foot-long riding arena.

Yet if hinged doors were used between the two areas, as with most barns, the doors when open would cover up several of the horse stalls. The owners did not want an overhead door so AMKO designed and built a pair of attractive knotty pine "pocket-type" wooden sliding doors.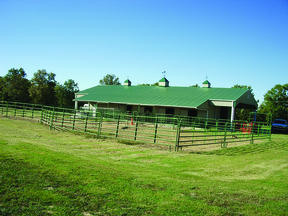 Because the barn and arena meet at the center of the arena's long wall, normally the opening between the two would have been bisected by a steel truss leg.

Instead, the single leg was eliminated by substituting a set of legs and cross-header to bear the roof truss at that point. Also, at the endwall where the arena opens to the outside, AMKO installed special "high-lift" overhead doors so that the door rails would remain well above the height of a mounted rider.
To board their champion show horses, the owners required fresh-air ventilation as well as the ability to control climate changes through the seasons. The challenge was met as Myrick subcontracted a local ventilation company to build 36- and 48-inch custom roof cupolas with electronically controlled louvers. The owner likewise desired to maximize natural lighting in the arena, but without significant loss of insulation value or creating water and condensation problems, as often happens from using roof-type skylight panels. AMKO provided the answer by installing large endwall gables, together with smaller wall-type skylight panels.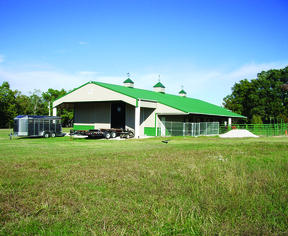 "The Plyco and Ritchie dealerships are good for us," Myrick says, "because we're able to supply all of our own horse barn components without having to buy them at retail. More important, we can serve our customers by giving them turnkey facilities." Equestrian building is also a good fit for Myrick's company because, he believes, "the actual construction of a horse barn isn't all that different from other commercial and residential buildings we do. So our crews can handle these projects very well. The main difference is that, with livestock, environment equals money. The interior has to be the right environment for the animals inside."
As for the outside environment, Myrick says northwest Arkansas has the right mix — plenty of water and a mild climate — to fuel economic growth into the foreseeable future. "The region has really bloomed in the last three to five years," he says, "and building horse barns is giving our company a great way to profit from that growth."



Copyright 2004-2022 Myrick Construction, Inc.

Exclusive Manufacturers of AMKO Quality Metal Buildings™

Northwest Arkansas; Arkansas, Missouri, Kansas, and Oklahoma

All Rights Reserved
Horse barn builders in NW Arkansas, SW Missouri, SE Oklahoma, Oklahoma, and Arkansas.